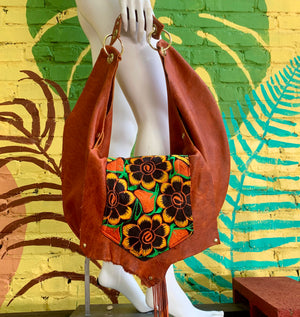 O'Bag "TULUM"
This hand crafted leather bag was inspired by my trip to Tulum, Mexico. Its beautiful rustic orange color is warm and rich. Approximately L 23.5' X  W24.5' inches.The inside is spacious, and deep. The O'Bag is a fashion accessory and a cool conversation piece.
The colorful flower flap was up-cycled from a clutch purse that I purchased while in Tulum!
Each Bag is unique and created with love and divine inspiration.