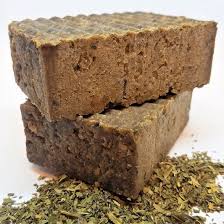 African Black Soap
African black soap is traditionally made in West Africa from locally harvested plants like plantain skins and leaves, cocoa pods, and shea tree bark. The plants are sun-dried and roasted to produce ash, giving the soap its iconic dark color.
It is a natural anti fungal agent. Black. soap is great for then skin and hair. 
Our "Onyx Cleansing Shampoo" is made using this natural source.